Chaze Films was founded with the intent of capturing "passion" on film so you can watch and relive those moments forever; in this case, capturing the passion of love and happiness on the biggest day of your life – your wedding day.
We take pride in building relationships because not only do we enjoy getting to know new people but we feel the more comfortable you are with us, the more comfortable you'll be on film. That way we can provide a personal and meaningful experience.
We like to provide a professional service on a personal level. With that said, we would love to work with you!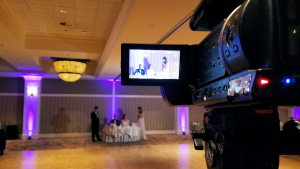 Here are things you'll want to know:
Shooting Style
Our style of shooting is a cinematic approach rather than a documentary style. Although, we capture moments as they happen, there may be times where we will work with you to capture specific shots (similar to what wedding photographers do).
For example, we do not want to disturb the flow of the ceremony, so afterwards we may ask to reenact putting the rings on as a closeup shot.  That way when we work on editing the feature piece, it'll look the reenactment was part of the live ceremony.
Ahhh the beauty of the cinematic approach and editing! 
In comparison, a documentary style videographer doesn't engage with the people and typically just stays in the background while capturing the day as it happens.
Finished Product: Cinematic Highlight Video
Although, we do offer a wide range of add-on edited videos (check out our pricing page for details), the primary featurette is a cinematic highlight video. More specifically, it's an artistic cinematic blend from the day that summarizes all the best and important moments in a 3-6 minute video. This video is set to a cinematic instrumental song.
You'll Receive A Multi-Cam Edited Video Of the FULL Ceremony With Our Base Package!
A lot of wedding videographers that create highlight wedding films do not give you full parts of the wedding or they charge you extra for it.  We edit the full ceremony for you with the multi-camera angles in case a guest accidentally walks in front of one camera, we'll clip to the other camera angle.
Although, we have a cinematic approach, we do capture all the important moments and more.
Check out our portfolio page for more examples of our work.
Please feel free to contact us because we would love to work with you!