Chaze Films is an Minority Business Enterprise Certified (in MA) video strategy and production company based out of Boston, MA.
Jason C, Co-founder, Video Strategist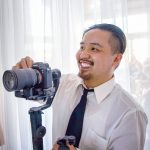 Jason has been filming since the days when you actually had to put videotapes in camcorders. It went from simply capturing every day life for memories to making hilarious recap videos of his vacations to creating sketches to being asked to film weddings.
It all started as a hobby for Jason until Marcus' enthusiasm convinced him to take the leap into professional videography. Now Jason uses his years of experience and creativity to help produce professional video while helping companies and businesses strategize to achieve goals, all through video.
Don't worry, Jason still finds time to create and work on passion projects such as short films and anything that peaks his interest.
Jason has taken the lead as the company's video strategist.