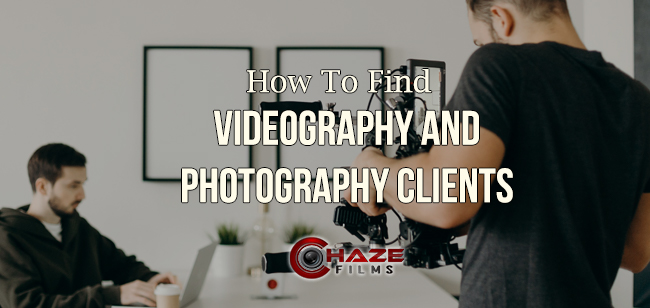 How do I find video and photo clients?  I see this asked a lot.  Whether you're just starting out in the videography or photography world or you've been at it for a while, finding clients can always be challenging at times.  And more importantly, finding the clients you actually want to work with can be that much tougher.  But let's get into how to find videography and photography clients. 
Things You Need To Do Before Finding Clients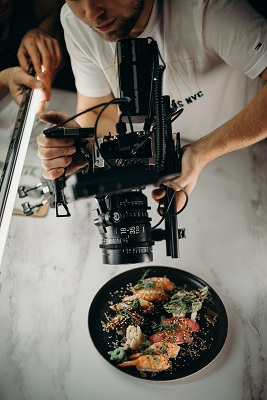 Have A Portfolio Or Examples Of Your Work – Even if you were the best salesperson out there, in this industry, you need some sort of portfolio to back up the quality of your work. No matter how much they may like you, they're probably not going to hire you based solely on that.
If you're just starting out, go film or take photos of people you know and focus on the type of work you'd want clients to hire you for. If you're looking to create videos for businesses, they won't want to see wedding videos you've created.
Create Social Media Accounts And Website – You need some place to showcase your portfolio and often times social media will help you do that. But don't forget to create a website too!
I see a lot of people that skip that part but potential clients will want to do their own research before hiring you and your website is one of the first places they'll look. If you don't have a website, at minimum, they'll be skeptical.
A Professional Way To Contact You – This is obvious but they need to get in touch with you if they're interested. But, say, you're sending a cold email from a Gmail account, that doesn't help build trust sending from a free email provider.
If you have your own website, you'll have your own domain.  Create a professional email such as YourName [at] YourDomain [dot] com.  That in itself builds trust and looks professional.
If you're contacting people in person, make sure you have a business card to give them. Your first impression shouldn't be you telling them to add you on social media or you writing down your number for them.
With that said, let's get into some ways on how to find videography and photography clients.
Social Media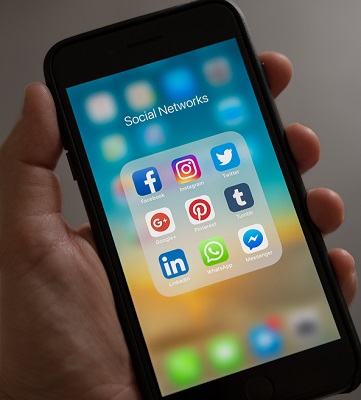 This is super vague and I'll be going into more details on future posts (make sure to subscribe to the newsletter so you don't miss out) but social media is a great way to research, engage and contact potential clients.
If you're subscribed to our newsletter, you already have some tactics to contact specific businesses but here are some general tips.
Don't Sell But Rather, Engage – One of the things I see people do (and we were guilty of it before too) is basically selling our services like a salesperson right from the beginning.
No one wants to be spammed with your sales pitch on their first meet.
Provide Value – When you engage with people's posts, offer tips and suggestions as well, build trust by networking and then they'll likely want to check you out and talk about how you can help bring them value.
But offering tips, suggestions, and providing value will show them you're an expert in your field by showcasing your knowledge.
We'll get into specifics with Facebook, LinkedIn, Instagram and more on future posts.
From Their Ad Marketing Campaigns
Have you ever seen ads pop up on your feed or while searching for something and think "oh man, I could definitely help them better their videos and photos for their marketing"?  Well, that could be your selling point and be your next client. 
They're already advertising but we all know first impressions mean a lot so if they could use some help with their digital media, I'm pretty sure they'll take you up on your offer.
Join Groups And Communities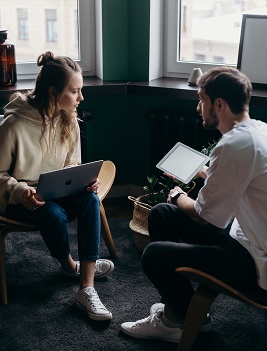 Joining groups and communities will help a lot as long as you're not spamming. Even if someone you've talked to and networked with doesn't need your services, it doesn't mean they don't know someone that does.
Plant seeds and watch them grow.
Networking Events
During the pandemic, most networking events are online now but that shouldn't stop you from attending. Search forums, event calendars, social media groups, etc, and then attend ones that are specific to the ideal client that you're looking for.
If you're interested in real estate, attend some networking events specific to that.
Of course, when it's safe to do so, attend networking events in person as well! But again, make sure you're not selling, but engaging. Like the previous point, plant seeds and watch them grow.
Review Websites And Search Engines
Google My Business, Yelp, a specific niche review website, those are all great places to find potential clients. Not only will you see what they're good at, you'll also see what their customers are saying they're lacking. You can use their pain points to help bring them value and make their business that much better.
Simply search for your ideal client in Google (ex. Architects near me) and you'll see a listing on Google My Business with reviews/ratings as well as specific review websites.  Check them out and reach out to them.
If they're not on Google My Business or anything else but you still find them, that's another selling point that you can bring up that it's beneficial for them to list their businesses.
Here are some tips on sending cold emails to businesses.
In Person
When it's safe to do so, finding clients in person will go a long way. I know a bunch of videographers/photographers who go into the place of business and simply talking with the owner or someone in charge.
Again, have a conversation, make sure you do some sort of research beforehand and have your business cards ready!
Conclusion
There are plenty of ways on how to find video and photo clients but ultimately, you have to be patient, do the work and don't give up.
We'll be going into more depth on future posts but wanted to warm you guys up with a more general version.  Stay tuned and subscribe to our newsletter so you don't miss out!