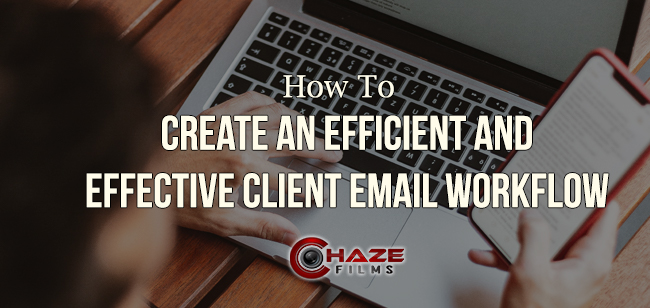 Are you receiving a bunch of inquiries from potential clients?  Are you having a tough time tracking everything?  Is it affecting your efficiency with your client relationship?  Well, it's time to get organized so you can help streamline some of your email workflow to stay efficient and effective.
Now if you're thinking "I don't have to worry, I only receive a few inquiries here and there", and you may not think it's a big deal but what if tons of inquiries come all at once?  Will your efficiency still be the same if that happens? 
Don't wait until that happens. Start your client email workflow now to get yourself organized but also so you can handle the efficiency when you do get flooded with client inquiries.
Here's a good general client workflow that should help you out now as well as in the long run:
Responding To Inquiry
This seems like a given but believe it or not, there are some people who do not always respond to inquiries, especially if they are not interested in the client's project. 
On top of that, first impressions, even through emails, go a long way.  If you don't respond or respond unprofessionally, that creates a lasting impression on you/your company and that may become your reputation with them and everyone they tell. 
You should always respond whether or not you are interested, and even more importantly, respond in a professional manner.
Find Out More About Their Inquiry Through A Questionnaire
When you receive an inquiry, often times people will include some details on their project but probably not enough for you to know how much time/work is involved as well as be able give an accurate estimated quote. 
This is when your questionnaire will help you gather some more general details.
This will save you both time from going back and forth, flooding your inbox with numerous emails.
In my client email workflow, I often merge the "responding to inquiry" email while attaching my questionnaire to it (unless it's not a good fit, then I don't attach the questionnaire).
If you're looking for a questionnaire template, we share ours with all of our email subscribers.  Also, our blog post titled "6 Reasons Why You Should Send New Clients Questionnaires Before Meeting" be help out too.
We also use HoneyBook as our CRM, which has tons of features including keeping track of all emails for each project in one place but also one that sends out our questionnaire automatically for us (Get 50% off your first year by signing up through our referral link) saving us even more time.
If you're looking for a free option, Google Forms can work too (but you must use Chrome for it).
Following Up To First Email Response/Questionnaire If No Response
Sometimes emails get lost in the shuffle or people get busy and forget to respond so we usually send out a friendly email reminder to nudge them. We usually send this out a week after sending our questionnaire to give them some time.
When we do receive responses and filled out questionnaires after the reminder, they usually let us know they either were busy or they overlooked that initial email. 
In other cases where we don't receive responses, we move on, but we didn't lose or spend much time due to the email workflow setup.
Schedule Discovery Call
So, after a client fills out our questionnaire and we have the general idea on the project (as well as if we would be a good fit for the project), we send an email to schedule a discovery call to go more in depth. 
This gives us a way to officially talk and meet the client, which is a great way to start building a relationship. You get a chance to find out about one another as well as their business, rather than being a random person behind a computer screen. 
I mean, wouldn't you feel more comfortable talking with someone you're about to hire rather than just exchange a bunch of emails?  Us too.    
Not only that but it's a great way to easily answer questions they may have, demonstrate that you're an expert in your field and help them relieve any doubt they may have in potentially looking for another videographer/photographer/your competition because they're comfortable with you. 
Meeting Recap
There will probably be a lot of things discussed and a lot of questions asked so sending a recap email highlighting the details of the meeting is beneficial for both parties because you have everything in writing. 
We do this to make sure we're both on the same page, have their approval in case there was anything missed and use this to highlight the scope of work for the contract.
Send Proposal/Contract/Non-Refundable Retainer Invoice
Once the client approves the details from the meeting recap, which is pretty much the scope of work, it's time to officially lock in the project with a contract and non-refundable retainer. 
We attach the contract and invoice for the non-refundable retainer all in one email.  And this is another reason why we like HoneyBook because they make this all easy for us.
Check-In Before Film Day Shoot
This is especially important if they booked you a month or longer in advance because people tend to lose track of time and the point is to give them a heads up so they're all ready for the film day.
This can also be used as a reminder in case they have any last minute requests or if they were supposed to do certain tasks in preparation for production day (such as getting the proper employee who will be on film or cleaning up their workspace to be presentable on camera).
Delivery Of Drafts/Final Product
It's always nice to send emails with updates to clients, especially if it's a longer project so it shows you're proactive and want to keep them in the loop.  It also gives them an idea on when the project will be done (unless you guys agreed to a set deadline already).
Obviously sending drafts (with watermarks) to get approval from the client is a given but make sure you received their changes in writing so you can reference it.
Final Invoice
Before delivering the final product, make sure the remaining balance is paid.  Again, since we use a CRM with HoneyBook, there's an option for auto-pay and if it hasn't been paid, HB automatically sends a reminder email to the client on your behalf so you don't have to do anything. 
Follow Up To Make Sure Everything Worked Out With The Final Product
It's always nice to send a follow up to check to make sure all went well with the final product.  This can vary depending on the type of project but generally speaking, it's nice to build a relationship with them so they have a good experience with you. 
If they had a great experience, you could always ask them to do you a favor and leave a good review because reviews go a long way in helping your business.
Conclusion
There will constantly be tweaking to client email workflows but being organized, providing good service to your client and saving yourself time will all help you in the long run. 
This general workflow is something that has worked well for me and I continue to tweak it as I go but hopefully it helps you guys!
And if you're interested in some email templates for each of these situations, I'll be providing those free email templates on my email newsletter so if you're not already signed up, don't miss out!  You can subscribe below!